Overview of Custom Steel Fabrication:
–
Structural Steel Exporter is a process involving the production of special solid steel components. After these goods have been completed, different structural forms, frames, and formations can be created. The steel frame building, almost like a 'skeleton' in structural construction, is a frequent example.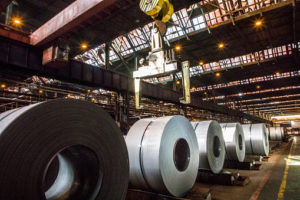 The manufacture of steel includes highly complex and precise procedures. A wide range of skills, equipment, and technology is used by several steel manufacturing businesses to produce particular items in different sizes while employing a number of metals. They can range from steel doors to barriers and patios to staircases.
In recent years, the manufacturing process for steel has developed significantly. More manufacturers use creative new technologies to enhance the goods, facilitate and efficiency of the entire process, and ultimate consumer assistance.
Below are some typical processes of steel manufacturing:
Shot Blasting: This is where the steel pieces are struck by force, thus the term that enables them to be prepared for future manufacturing. Shot steel is usually carried out on larger, more heavy items.
Welding

:

Steel welding requires fastening together several parts. Welding technology is generally kept for attachments because of how this stability and rigidity between parts are created. Welding steel means that materials are melted together in high temperatures and reinforced while cooling. Universal welding technology is not available; other possibilities exist, including TIG soldering, MIG soldering, arc welding, etc.
Bending: The production of curved borders, as well as rigid, straight forms, are a large part of steel production. Bending and rolling steel are therefore skills that manufacturers should be aware of. The bending of steel helps to achieve a smooth finish that is not damaged, cracked, or crushed since the steel is unbelievably ductile when subjected to heat.  Hence the number of odd and unconventional designs.
Cutting: Steel sections clearly have to be cut to specify. The steel cutting procedure can be performed hand in hand with specialized instruments like flame cutters or plasma cutters. Or otherwise specific machines would be required to produce the correct size and form for bigger, heavier items.
Finishing

:

Finished steel helps protect items against over-corrosion, damage to water, and more. Different coatings might be necessary at particular times, depending on the use and location of structural steel goods. Custom metal fabrication serves a lot of purposes when it comes to being applied in different industries.
Benefits Of Custom Metal Fabrication are:- 
Malleability 

Flexibility 

Weather-resistant 

Versatility 
Raw materials used for steel fabrication:-
Plate Metal

Fittings

Castings

Formed and Expanded Metal 

Sectional metal 

Flat metal

Welding Wire
Why is Steel Fabrication important?
Structural steel in buildings and other projects has many advantages, but the products might be complicated and need the success of skilled structural steel fabricators.
Affordability

:- Steel is stronger and cheaper than other metal choices. In the area of production industries where it is a foundation, it delivers higher value.

Capacity pre-manufacture

:- Structural steel generally enters the pre-fabrication phase in the building and other sectors and is manufactured on-site. The amount of work needed on-site, quick-tracking projects decreases pre-production.

Low Maintenance

:- Increased maintenance tends to be for materials other than steel. For example, wood is sensitive to pests and might break up when the weather is acidic. Steel is easy to fix and lasts a long period in the meantime.

Aesthetics

:- Simply put, steel looks excellent and may improve the aesthetic of many projects regardless of the style.

Environmental:

– Eco-friendly steel is because it can be used and recycled continuously. It also needs less energy to create and less carbon dioxide to be generated.
Custom Steel Fabrication at Lakshya Int:- 
Among the various steel fabricators present in Mumbai, Lakshya Int crafts and manufactures precise, sturdy, and quality structural steel for a number of applications. Custom Steel Fabrication is utilized by many industries and our structural steel is our client's most reliable choice.